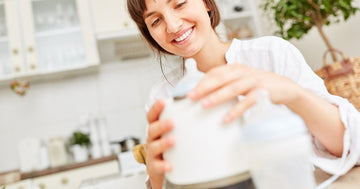 There are many reasons and research established about why a mother's milk is best suited for your baby. As a mother, even you reap a lot of benefits from breastfeeding.
Benefits Of Breastfeeding
While a lot of moms choose to breastfeed their babies for at least a year, a good bunch of them have the pressure to give up earlier as it becomes infeasible due to their jobs or other reasons. And for this reason, some moms express breast milk and store it in the fridge and a caretaker bottle-feeds the baby with this expressed milk. This culture is very popular in Western countries and is now gaining popularity in India.
Also read: 5 reasons why nursing covers or shawls important for breastfeeding
So, Is There Any Difference Between Breastfeeding And Bottle-feeding Expressed Milk?
Breast or from the bottle, fresh or frozen, mother's milk provides all the nutrition the baby requires. Frozen and bottled breast milk is not any less nutritious just because it comes from a bottle. While that being said, breastfeeding is not just about nutrition for the baby, it establishes comfort, bonding, security and closeness. Here is a list of pros and cons of both options
Breastfeeding
Pros
Bonding with your little one.

It is a well-researched fact that skin-to-skin contact with your baby helps in both the physical and mental development of your baby. And there is no greater feeling in the world than the one when your baby nuzzles up close to your chest. It is a very secure feeling that both the baby and you can enjoy.

Saves time & money.

There are no bottles or nipples to buy, wash or sterilize.
Cons
Nursing in public could be tough.

Breastfeeding when you are out of home and in a public space like a mall or restaurant may become a challenge. This is why breastfeeding kurtas and nursing stoles will be very helpful. 

You must plan your 'me' time according to the baby's feeding schedule.

If you are breastfeeding, then your baby is dependent on you for all meals. And considering that babies need to be nursed every few hours, you will have a tiny window between which you will be able to go out by yourself and get some 'me' time.
Also read: 5 Tips For Breastfeeding In Public Spaces
Pumping
Pros
Family can be involved.

Feeding a baby, even if it's from a bottle is a very special feeling of bonding. With a bottle, the father, grandparents and immediate family can get to experience it.

Monitoring the feeds.

By pumping and bottle feeding, it's easier to monitor how much your baby is eating at each feed.
Cons
Takes time.

It is an endless cycle of washing and sanitizing bottles and nipples. It also takes time to refrigerate what you pump, thaw it and then feed your baby.

Takes money.

Breast pumps, bottles, nipples, sterilizers and more. There is a lot to buy and manage.

Possibility of contamination.

When your baby is not nursing directly from you, there is a possibility of contamination of pump parts, bottles and during the process of freezing and thawing. If the milk gets contaminated, the baby can get sick.
Storing Expressed Breast Milk
Now that all the pros and cons are laid out, you as a mom, can make the best decision for you and your baby. There is no right or wrong in the choice you make.
Conclusion
If you're a parent, you already know that breastfeeding is the best method to feed a baby. But if direct nursing is not possible, expressed and chilled milk can be helpful. Because expressed milk contains all the minerals needed for your baby's growth and development, it is a nutrient-rich alternative to formula. The best way to ensure your baby gets the best nutrition is to learn how to express and store milk. So, if you're a busy parent who needs to consider different feeding methods, expressed and stored milk is something to consider. It's a great way to guarantee that your baby is receiving the nutrition they need to thrive.
Happy Breastfeeding :)
Shop all Morph essentials including Feeding pillow for an extra 10% off using code "BREASTFEED"
We have a very special offer for you from our sister brand Baby Munkin, where we specialize in making baby friendly, poke free and eco-friendly diapers. You can shop them here.