Fashion
5 Must-Have Maternity Wear For The Working Woman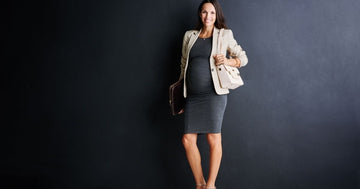 Usually, a working woman's wardrobe is filled with regular kurtas, salwar, chic sarees, cotton shirts and trousers – and she still has trouble deciding what to wear every day!! Once women become pregnant, their body undergoes a lot of changes in the 9 months and the wardrobe woes truly begin.
During the initial 3 months of pregnancy, pregnant ladies will be able to wear their regular clothes with little adjustments but as time passes they won't fit into them. Usually, in the 5th month onwards, you should focus more on comfort rather than style. That does not mean maternity wear for work has to be boring!!! One primary reason why maternity wear has become so popular is that it can also be reused during the nursing phase.
Also read : Building A Maternity Wardrobe: Tips And Tricks
Here is a list of must-have stylish, chic maternity wear for the working woman
1. Maternity Kurtas - Feeding Kurtis 
Nowadays a wide variety of excellent maternity kurtas in beautiful shades, these kurtas make a perfect choice for everyday office wear. you can select the best kurta as per your choice and style. This maternity Kurti gives you a clean ethnic look, the material is super breathable and offers 100 % comfort. The best part about these maternity kurtas is, they can be worn through pregnancy and can also be used as nursing Kurtas. This elegant kurta comes with a vertical/horizontal zipper for easy nursing. The fabric is 100 % cotton, it can also be gently machine washed.
2. Shrugs 
You can pair up gorgeous-looking shrugs with maternity pants. It is a beautiful accessory for pregnant ladies. These can be used throughout pregnancy and post-pregnancy as a nursing cover. Most of the shrugs available on www.morphmaternity.com are made using chiffon, polyester georgette fabric and can be hand washed. You can also opt for a stunning shrug/coat to cover up the baby bump.
3. Work Pants/ Treggings
You can now choose from a wide range of maternity pants in vibrant colors. These can be paired up with comfortable formal shirts. This maternity pant comes with a high belly and supportive elasticized waist. The lower part is usually narrow bottom hem/straight fit/ankle length leggings. The fabric used is polycotton which offers total comfort throughout the day. You can also opt for Treggings to pair it up with Kurta. Treggings comes with a skinny fit and a low belly. These are made using scuba and have an ankle-length fitting.
Also read: Why Do You Need Feeding Kurtis
4. Maternity Camisole
Morph offers beautifully perfumed camis, which provide comfort and relaxation.  It is best to decrease anxiety and mood fluctuation during the entire pregnancy. You can comfortably wear these camisoles underneath a kurta or shirt. It provides much-needed emotional as well as physical relaxation for the mom-to-be. These can be used during pregnancy and post-pregnancy for nursing. It is made using 100 % cotton fabric and can be gently washed in the machine.
5. Ethnic Maternity Bottom 
You can pair up your Kurta with a pretty salwar/churidar/Harem Pants. These pants come with a gathering and elastic to support the belly. Additionally, the belly panel can be stretched since these pants are made using Woven Cotton Fabric.
Conclusion
You have come a long way you gave birth to a wonderful baby and you are heading to work, so you should choose breathable and comfortable wear. The top 5 must-have maternity wear mentioned in this blog-maternity kurtas/feeding kurtas, shrugs, work pants/treggings, maternity camisole and ethnic maternity bottoms provide support and comfort while also the working woman to feel confident and stylish in the workplace.
Shop all Morph essentials including Maternity jeans for an extra 10% off using code "WORKINGMOM"
Related Products
Related Products