Fashion
Building A Maternity Wardrobe: Tips And Tricks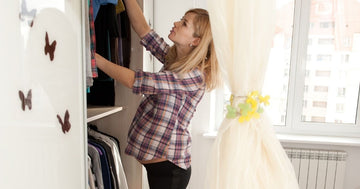 While it's great being pregnant, most women wonder if they will have to spend a lot on maternity clothes to look good. Well here's the thing… It's a myth. choose a few must- have items that will last throughout your entire pregnancy and even after the baby arrives. Here are some tips to help you put together a maternity wardrobe that will have heads turning.
Maternity Jeans Are A Must-have In Your Maternity Wardrobe
A well-fitted pair of maternity jeans will go a long way for you. Wear them with formal shirts for work or with casual tees for a day out. A good pair will become a essential product in your maternity wardrobe. Just make sure that they are stretchy so you will not have to compromise on comfort. You can pair them with stretchy tops from your pre-pregnancy days. A good pair of jeans while looking stylish will give support to your belly & back.
Also read : 10 Recommended Must-Haves For New Moms
2 In 1 Avatar Top Wear
Add a few kurtis & maternity tops that will fit you during pregnancy & later too. These are practically essentials in your maternity wardrobe. Morph Maternity's Top Wear is designed with keeping the price-sensitive mom in mind. 
Maternity Maxis Are A Never Fail Fashion Piece
A couple of maxis dresses in your maternity wardrobe will come a long way. You will be able to use it for your maternity photoshoot & for your baby shower. It worn in combination with a blue jean jacket, maxis look great for a day out.
Choose Good Quality Innerwear
Maternity Hygiene Panties are a must-have for every pregnancy to stay safe from Urinary Tract Infections. Choose comfy night bras that work during pregnancy & nursing days. You can choose from Morph's Leak Proof Bra series to protect you from embarrassing milk leaks.
Also read: Maternity Innerwear: Do You Really Need Them?
Get Creative With What's There In Your Wardrobe 
If you feel like there is nothing for you to wear, think again. Scarfs, skinny belts & colourful sweaters can add zing to your style. Wearing your pre-pregnancy shirts unbuttoned over a maternity tank top is a good way to continue using your wardrobe from before. Adding accessories will pep up the look.
Conclusion
In your gestation period, your body goes through so many changes and you need to choose your clothes according to your body preferences. Always choose comfort over costly. While there are so many options available including maternity jeans, maternity 2 in-1 top wear and maternity maxis. With careful planning and a little bit of creativity, you can build a stylish and functional maternity wardrobe that will see you through pregnancy and beyond.
 We hope all you beautiful mamas out there have a happy, healthy & fashionable pregnancy.
Shop all Morph essentials including Maternity hygiene panties for an extra 10% off using code "FASHIONMOM"
Related Products