Pregnancy
Are Mobile Phones And Laptops Safe To Use During Pregnancy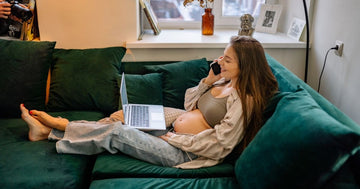 Most pregnant women nowadays prefer to work through their pregnancies and save up their maternity leaves for when the baby arrives. While most jobs and lifestyles demand heavy usage of laptops and mobile phones, few of us stop to think if it's safe to use these devices around the pregnant belly.
Multiple studies have been done in this space and many contradicting results exist. We at Morph Maternity did our bit of research and this is what we found.
One study said that a connection has been made between the use of mobile phones during pregnancy and hyperactivity in children. And this study further went on to say that exposure to radiofrequency caused Hyperactivity & Impaired memory in mice.
The same study mentioned that the power supply in Laptops is responsible for generating EMF (electromagnetic fields) much higher than the recommendations set forth by governing bodies which can cause health complications.
And there was another completely different study that said that no link was found between using these devices and child behavior.
All these studies can be overwhelming, scary and confusing. We believe that all you pregnant mamas should stay safe and not take any risks. So you can follow these simple steps to reduce the level of exposure to radiation
Use your mobile phone as little as possible.

Keep calls short.

Make sure you are in an area with a strong signal.

Use hands-free devices to reduce radiation exposure near your head and body.

Avoid charging your laptop while using it.

Keep as much distance as possible between your laptop and your body.
We at Morph Maternity went a step further and did a bit of research and found this special fabric that is soft, yet has metal woven into it. This super cool fabric does not allow radiation to pass through it. We made a belt with it so you can wear it over your dress and stay safe from radiation.
Also read: The Ultimate Guide To Safe Scans During Pregnancy
Conclusion
The research on the safety of mobile phones and laptops during pregnancy is not definitive, but it's better to err on the side of caution. As the saying goes, "Better safe than sorry, especially when there's a tiny human involved." So, pregnant mamas, try to cut your usage of mobile phones and laptops, keep your calls short and use hands-free devices to reduce radiation exposure. And if you want to go the extra mile, check out Morph Maternity's Anti-Radiation Belt for Pregnancy—it's like a superhero belt, but for pregnant women! Stay safe, stay healthy and keep growing that tiny human with peace of mind.
Shop all Morph essentials including Maternity hygiene panties for an extra 10% off using code "RADIATIONFREE"
Related Products