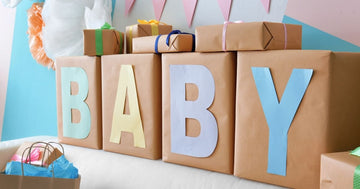 Planning a baby shower for a dear friend or family member is the sweetest honour that one can get. Making the event special can be a daunting task, so here is a list that will help you get organised and it makes the day extra nice for your loved one.
Also read : Baby Shower Dresses & How To Choose One
Select A Date And Time
Consult with the mum-to-be to come up with a date and time for her party. Most baby showers are held when the mom-to-be is about six to seven months pregnant so the cute belly shows and she is still comfortable.
Get The Guest List, Venue And Budget Ready 
Once the guest list and the budget are ready, you can plan to choose a venue and start thinking about the food you'd like to serve. Hosting a shower in your home is intimate, but if the guest list is large, or you have a bigger budget, consider a nearby hotel or restaurant. A hotel or a restaurant means their staff will manage the setup, catering and cleanup, so you can sit and enjoy the event.
Send The Invitations 
Be it a Physical invite, an Email or a Whatsapp invite or a Facebook event, the guests should receive their invites about six weeks before the party. That way they'll have plenty of time to reserve the date, RSVP, shop for gifts and generally be planned for the event.
Menu & Decor & The Perfect Baby Shower Dress
Have these things sorted out at least 2-3 weeks before the day of the party? Purchase decorations and plan the venue layout beforehand so everything is clear on the event day. Finalise the menu and see if your caterer can make mini versions as they are cute yet practical. Plan a fun cake with the mom-to-be's favourite flavour. You can also help the mom-to-be rock the party by helping her choose a baby shower dress for the occasion.
Have A Plan 
Most showers include games, gift openings, eating and drinking. The key is organising these activities to create a fun flow that keeps guests entertained and engaged. Give guests 15 to 20 minutes to arrive and offer drinks to people as they come through the door. Once everyone is there, start the activities followed by food.
Pick Up Return Gifts
A return gift is a simple way to thank your guests for attending and it doesn't have to be extravagant. One approach is to stick to your theme. Take-home bags of candy or homemade chocolates are a never-fail option. Scented soaps, candles, or bubble baths are also loved party favours.
Also read : Get Picture-Perfect Maternity Photoshoot With These 5 Essential Tips
Conclusion
Planning a baby shower can be stressful, but with careful planning and attention to detail, it can be a special and memorable event for the mom-to-be. From selecting a date and venue to sending invitations and planning the menu and decor. This guide provides helpful tips for creating a fun and enjoyable atmosphere. Additionally, incorporating return gifts and helping the mom-to-be prepare for the baby's arrival adds a thoughtful touch to the occasion.
Once the baby shower is done, you can help the mum-to-be get ready for the baby's arrival.
After all, she needs all the help she can get! 
Shop all Morph essentials including Maternity dresses for an extra 10% off using code "CELEBRATE"